If you are a small business owner and looking for business accounting software for your business to manage. Then the first two accounting software that crosses your mind will be Quicken and Quickbooks, but to decide which is best suitable for your business let's check out this post where I'm gonna compare both software on the basis of their features, their performance, and their pricing. This post will definitely be going to assist you to decide which one to buy for your business.  So let's dive into Quicken vs QuickBooks guide to decide which one suits your business needs totally. 
But before comparing both accounting software, we must know what this software is.  
What are Quicken and QuickBooks?
Below are the sections where we have described what Quickens and QuickBooks are. These two tools are definitely one of the best tools in accounting. Let's get started.
What is Quicken?
Quicken is personal accounting software, exclusively designed to manage your money on cloud accounting software. With Quicken, users are allowed to track income, expenses, and cash flows and also manage all their property-related finance like rental land or building, handling taxes, creating custom invoices, and tracking investment.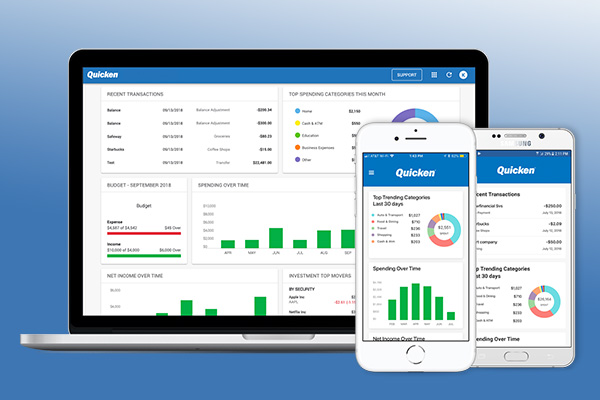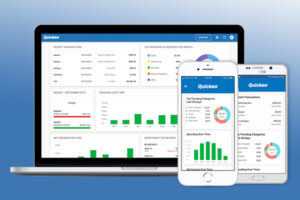 Quicken makes it easy to organize and streamline the accounting task in one place as well as financial tasks. You can manage your money tab whether you are using the web, desktop, or mobile, Quicken is mobile-friendly software. A single click on your smartphone allows you to see your entire finance tab including expenses and incomes. This tool is cost-effective as well as handy for your personal business.
What is QuickBooks?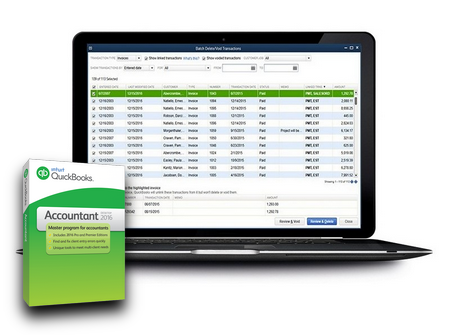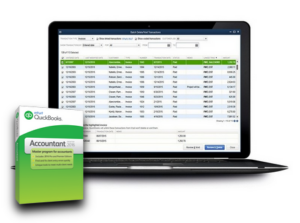 Quickbooks is an accounting software pack developed and marketed by the American software company Intuit. This software is exclusively made for small and medium-sized enterprises to make their accounting and bookkeeping work easy. With the help of QuickBooks, the user can keep managing income and expenses and also track the financial health of the business. Additionally, Quickbooks allows the user to manage and pay the bill, accept business payments, function payroll, track business growth, and also set reminders for further payment.  

Also Read: How to Download Quickbooks Accounting Software? – Complete Guide
Now, that we know exactly what Quicken and QuickBooks are, we can go further to compare both software with each to conclude which is best for your business type. This comparison is based on different aspects in an explained way so scroll down to know to compare Quicken vs. Quickbooks in depth.  
QuickBooks vs Quickens in Terms of Major Difference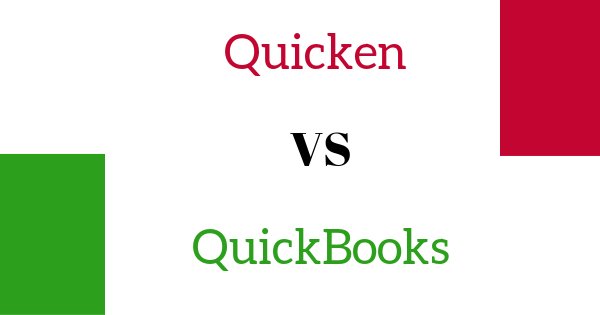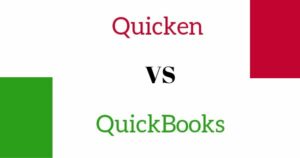 The biggest difference between Quickbooks and Quicken is that QuickBooks is designed for small and medium-sized businesses and Quicken manages personal finances.
Quicken is the software that has the capability to manage a handful of business finance aspects within the home & business version of the software. The feature of Quicken is largely meant to support professionals with side businesses or rental properties in terms of managing their accounting sections.
On the other hand, QuickBooks is a platform meant to manage the accounting terms of small businesses all over the world. This particular accounting software has all the required functionality of business such as Book-keeping, accounting, general financial management, and payroll system.  
Quicken vs QuickBooks in Terms of Features
Both accounting software is made to manage the financial business requirement, one for small business and the other one for home & business. This comparison is based on the features that both accounting systems have 
Features of QuickBooks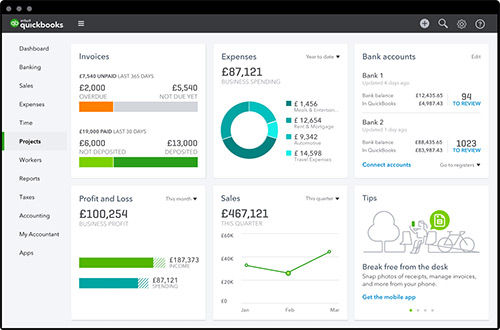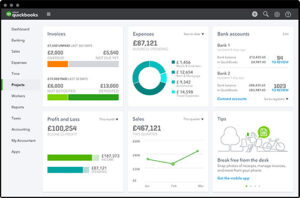 Quickbooks is a web-based accounting software program that can be accessed from anywhere with an internet facility. Unlike the Quicken Accounting software Home & Business version which comes in only one version, QuickBooks comes with four different versions with different subscription plans; the higher the subscription plan, the more useful feature you will get.
Track the income and expenses of the business from multiple accounts.

Accept Online Payments.

Send reminders to clients for payments.

Track the Mileage of the business and daily transactions.

Automatically sort transactions into tax categories.

Acquire the payment receipt and organize it  

Customize invoices and send them.

Create customize report

Run profit and loss statements, balance sheets etcetera, and export these reports. 

Send Estimates with customization.

Track cash flows and reporting through Dashboard.

Calculate sales tax and also track sales.

Manages 1099 contractors single-handedly.

Connects the user with their Business bank account 

Print Cheques.

Allow account access to a business accountant.

Co-opt with other Quickbooks and third-party tools.

Download Quickbooks Mobile App

Customer Support for users via phone call or chat.
As earlier mentioned, there are four plans and every upgraded plan comes with some additional features. The ultimate four plans of QuickBooks give any business owner the to manage, automate, and streamline their financial business with one pack of accounting software. This software is a one-stop shop for any small business entity.
Features of Quicken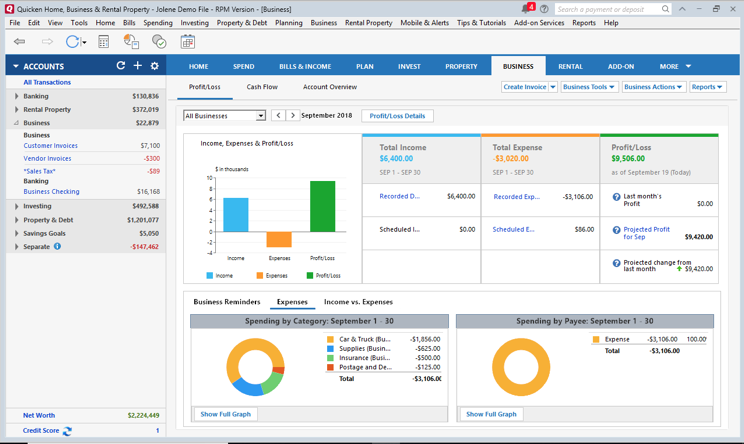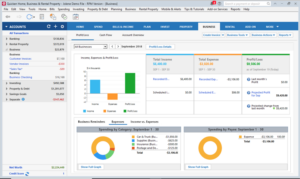 Quicken Home & Business software can be downloaded and installed on your computer and is meant to be developed to maintain personal finance. The newest version of Quicken allows users to access it on the web and mobile too. The user just has to opt into these features to sync her data across locations. Moreover, this accounting software is only compatible with the Windows operating system. These are some of the Quicken features
Profit & loss statement and cash flow reports.

Separate section for rental, business, and rental property transactions categorically.

Allow users to create and customize invoices.

Allow emailing rental and business reports from Quicken.

A separate tool to maximize business tax deductions and create tax-related reports.  

Create and send custom rent reminders to clients with PayPal links. 

Single bill dashboard with reminders.

A tool to track rental income, lease terms, rental rates, and deposits.

Customer support system via phone or chat.  
Above mentioned pointers clearly indicate that there are more separate tools for those who own rental properties. There are enough tools to manage your business or meet your business needs if you work as a sole proprietor, a contractor, or a freelancer. 
Also Read: Methods To Convert Quicken To QuickBooks
Quicken vs QuickBooks in Terms of Pricing 
When comparing Quicken and QuickBooks together in every aspect, then it's important to weigh both software on a pricing scale. The most satisfying and supporting software is that which fits the user's budget or is pocket-friendly. Although both software Quicken and Quickbooks come up with four pricing plans for their user and every higher plan unfolds another feature for the user. It's just a matter of the money you spent on the plans you choose. In this QuickBooks vs Quicken home and business post, all the plans and the features unfolded with the plan are explained in brief. Just checked it out below. 
QuickBooks Online Subscription Plan 
Quickbooks Online give their user four plans to choose from, and all of them are based on a monthly subscription basis. It all depends on what plan you choose and with that plan, what feature you will get along. All of the subscription plans are discriminated against below with their ultimate features. Additionally, Quickbooks gives its user a 30 days trial for free before investing in a subscription. 
Simple Start- $25 per month
This plan supports ultimate invoicing and estimating, expense tracking, contact management, limited reporting features, and mobile app support which can be used by only one user.   
The Plus plan gives multi-user access to its users worldwide which supports five users. It has all the features of a simple start subscription but additionally with the plus plan subscription the user is accessible for time-tracking, project profitability tracking, inventory and bill management, and a project hub that let the user tie specific labor costs, payroll data, and expenses to the belonging project.
Advance Plan- $150 per month
The Advance plan also supports multi-user access like the Plus plan but with a maximum of 25 users at a time. With all the Plus plan features it has some more features like; priority customer support, online training courses, batch importing abilities, advanced reporting, and role-based user permissions for better security. 
Self-Employed Plan- $15 per month
The self-employed plan has some unique features than any other plan. In this plan, the user will get quarterly tax management which is a perfect fit for any Freelancer. Furthermore, the users will get an estimate tracking feature along with 1099 contractors management and sales/sales tax tracking. 
These are the core subscription plans for the users but has also some Quickbooks payrolls available in three plans along with add-ons:
Core

– $45 per month + $4 per employee per month

Premium

–  $75 per month + $8 per employee per month

Elite

– $125 per month + $10 per employee per month.
Quicken Home & Business Subscription Plan
Quicken Home & Business also has four subscription plans that their user can avail of as per their business needs. The subscription plans by Quicken are available in the yearly form. A yearly subscription may look a bit expensive for the user but there's one more catch Quicken offers a 30-day money-back guarantee for their accounting solution. 
Starter Plan- $35.99 per year 
The starter plan of Quicken for a year is to allow its users to track their expenses, bills, and budgets along with the features to categorize expenses. This plan allows users to check bank accounts as well as credit cards. The user is able to export data to Excel along with phone support.    
Deluxe Plan- $51.99 per year
The Deluxe plan includes all the features of the starter plan for a year with customizing budget features. One additional feature is tracking and saving goals for debts, loans, investments, and retirement accounts. This pan is the most popular plan among all the pans because the features it provides are essential for the long-term retirement plan with not much higher cost as compared to the starter plan.      
Premier Plan- $77.99 per year
The premier plan comes up with all the Deluxe plan features with some new features like;  free online bill payments, priority customer support, and much more including a host of tools to further streamline tax planning. These include better portfolio analysis, comparison to market average returns, schedule D tax creation, and Quick Pay digital bill payments. 
Home & Business Plan- $103.99 per year
Before explaining this plan and the feature that comes up with it, it is necessary to know that this plan is only accessible in the Windows operating system not for Mac users just like the other three plans which are available for Windows and Mac both.
Also Read: QuickBooks Enterprise for Mac: Download and Installation Guide
Now let's talk about the plan, this Home & Business plan comes up with all the features of the Premier plan but it has some exceptional features that no other plans have it has a block of business & property management tools. This tool categorizes personal expenses from business expenses, profit & loss statements, cash flow reports, schedule C and E report creation, custom email invoices, and estimates and management for lease terms, rental rates, security deposit, rents, and rental documents.
Which is Easier to Use Quicken or QuickBooks in Terms of Mobile App?
Both software Quicken and Quickbooks Online allow their data access on the mobile application whether it is Android or iOS. It's a smart move from both the software because nowadays people want everything at their fingertip and a service like this eases their work and increase compatibility. Read this section to know more about the mobile app compatibility in Quicken vs Quickbooks post.
Quicken Mobile App Support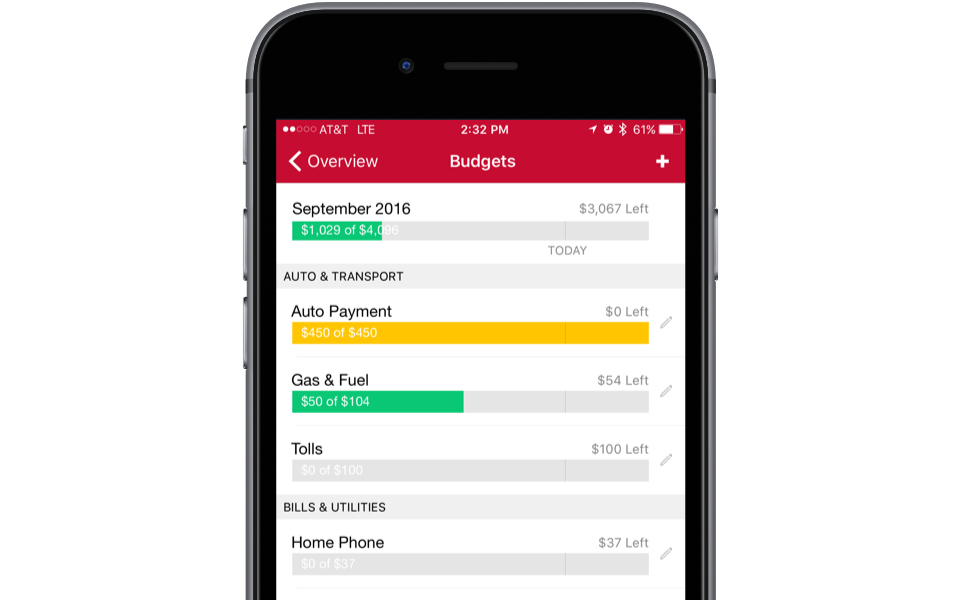 With the help of the Quicken Mobile App, the user can perform some useful tasks such as viewing their bank account transaction. The only catch in this Quicken Mobile app support is that whenever the user enters any transaction on the mobile app device, it will automatically be synced to the desktop computer. Some of the tasks the user can perform with a mobile app device are written below.
View Bank account balance and transaction

Input account transactions and attach receipts.

View the budget you created with the desktop program.
Quicken Mobile app allows the user to perform some of these tasks but unfortunately, the users are deprived to create customer invoices or enter unpaid bills. 
QuickBooks Mobile App Support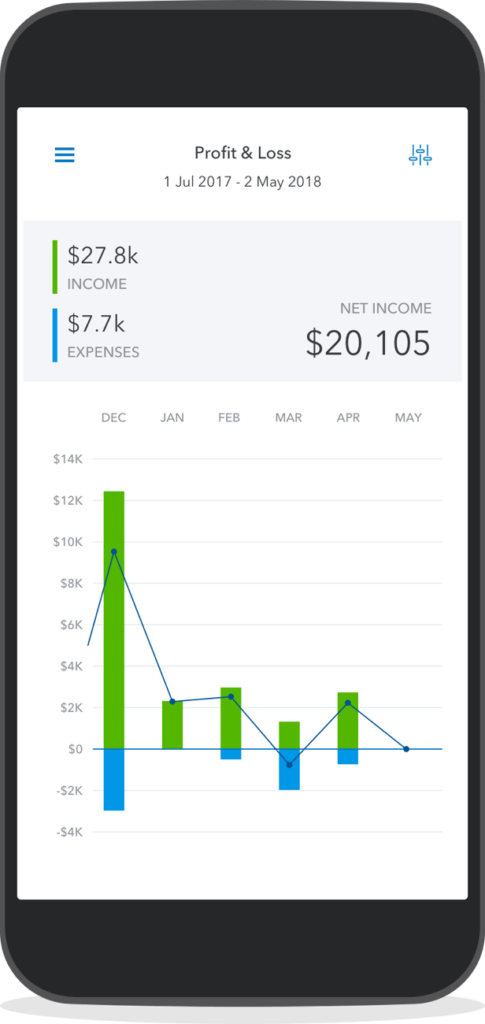 QuickBooks mobile App is just working as you worked on the desktop. Users just have to log in to the App and here you go, now you have all the access to your QuickBooks Account and can perform any tasks related to your business on the mobile phone.  
The following task a user can perform on the Quicken Mobile App:
Add new customers and vendors.

Create customize invoices.

The smartphone GPS will help you to track your Automobile mileage.

Take pictures of the receipt with the smartphone and attach them to the transaction.

Enlist the vendor bills.  
Quicken vs QuickBooks in Terms of Benefits  
When it comes to comparing two things with each other, the best subject will be the benefits. In this Quicken vs Quickbooks post, we are going to compare Quicken and QuickBooks in terms of benefits the user gets from both software. 
Benefits of QuickBooks Online
Quickbooks Accounting software is much stronger than any other accounting software and stands out in much wider ways.
The user can access their Quickbooks account anytime from anywhere as long as the user has an internet connection.

QuickBooks Online is designed for small business enterprises and its tools are very specific to small businesses that automate and streamline their financial processes.

Quickbooks Online is one of the most feature-rich software in the market.  

Quickbooks offers a 30 days trial for their users, with this offer the user can take a trial for 30 days to check that the plan matches their business needs or not.  

The start plan of Quickbooks software is way enough for the user to keep track of their business and record their day-to-day bookkeeping, invoicing, reporting, and billing. 

As their subscription plan is based on the monthly payment, a user can change or upgrade their business plan anytime.

Quickbooks offers you a business-centric interface that grants its users straightforward access to all the business financial information.

QuickBooks interface is much more approachable and user-friendly.

It also provides Quickbooks Tool Hub to resolve any kind of issues and errors that occurred in Quickbooks Desktop.

Quickbooks are also available on smartphones and tablets as an application.
Benefits of Quicken Home & Business    
When it comes to the benefits of Quicken, it stands with some factors against QuickBooks.
If the user is using the software to manage personal and business expenses, Quicken is the best choice you ever need. It provides a handful of business tools such as personal finance, handles investment accounts, and much more

Tracking your business and personal finance together may lead to confusion in Book-Keeping, taxes, and even legal problems, so keeping Quicken software to manage your account is admirable because it provides separate tracking paths for both business and personal expenses.  

If you keep your both personal and business expenses in one system, Quicken always distinguishes your bank account or credit cards for both expenses separately.

The pricing of Quicken is beneficial in comparison with Quickbooks. It's cheaper than Quickbooks, whether it avails all their plans in the yearly subscription. 
Quicken Vs QuickBooks in Terms of Customer Review 
The comparison is not going to end without a customer review. This is the most important point when it comes to comparing Quicken vs Quickbooks because this particular section includes the real experiences of the user of this software. The users who are using the software on a daily basis will review the software most reliably and correctly as any other. 
Quicken Customer Review
Quicken is also rated high based on some major qualities that it has. Recently many customers report that they are very pleased with the service that Quicken has served and that is way more important for those business owners who just started their work, a small entity group or just a freelancer, or for those who work alone. Quicken has a quality that is different from Quickbooks, it has a separate section for Home and Business expenses and track records and also distinguishes between both banks and credit cards. 
Quicken has received another point for its reasonable subscription plan that varies from Quickbooks and the simplicity it has to create and print reports. 
On the negative side, customers often complain about the integration of Quicken with third-party Apps. whenever the users try to connect with third-party apps the glitch appears and interrupts the work. Customer support is often failing to conclude the glitch and its sources.  
Also Read: How Do I Talk to Someone at QuickBooks?
QuickBooks Customer Review
Customers also have high praise for Quickbooks online than the Quicken home & business accounting software. On the positive side Quickbooks, a mobile app drew more attention and good reviews from customers. They love the idea that they can perform any task or track their business growth to go on their fingertip with a mobile application and everything is synced automatically across all platforms since the data is stored permanently in the cloud. On the other hand, QuickBooks online get praise for so many features with standard affordability that help customers to automate their most complex accounting tasks with ease. Quickbooks also amalgamate with third-party tools and apps that streamline the processes and make it so that business owners don't have to report tasks. 
In terms of a negative review is caused by its pricing or subscription plan. Many customers review the pricing plan as way more expensive and because of that, the software may be inaccessible, especially for every new business. Besides, QuickBooks's range of functions can present a learning curve to new business owners.
The Comparison Ends
Regarding the above words, both the software Quicken Home & Business and QuickBooks Online have their separate features and functions. Both software is good in their own way but this post is all about comparison. So, in QuickBooks vs Quicken post with all the discussion and comparison, QuickBooks is the more reliable and easy-to-use software in the review. 
Quickbooks Online has more supportive features than the Quicken Home & Business accounting software in both desktop and mobile apps. Although Quicken has a separate section for personal and business expenses that people do not require mostly those who do not have any rental business.
In short, if you are having a business related to rental properties or you are a freelancer got o Quicken, but if you want a robust technology accounting software for your small business QuickBooks Online will be the best option for you. You can also read, the Installation guide for QuickBooks.
Frequently Asked Questions (FAQs)
Q1. What is the difference between QuickBooks and Quicken?
QuickBooks helps small and medium-sized businesses while Quicken is for personal use. So if you are confused between Quicken vs QuickBooks for small businesses and you are a business owner then QuickBooks would be a better option for you. However, if you do not own a business and just want accounting software to manage your personal finances then Quicken would be better for you. 
Q2. Can you transfer Quicken files to QuickBooks?
Yes, you can transfer Quicken files to QuickBooks using the Conversion Utility tool. So if you want to want your personal account details and business account details in one place, then you can do it with the help of the conversion utility tool. 
Q3. How do I convert a QFX File to QuickBooks?
In order to convert a QFX file to a QuickBooks file, you can follow the steps given below:
Go to the folder that contains your .qfx file.

Then choose the file and click on the Convert to QBO button

.