When you work on Quickbooks financial software, it requires access to network ports to use the Internet and establish a connection between data and the server. Sometimes, the Firewall in your system obstructs the Internet connection which is required to perform tasks on Quickbooks programs and files. This is when most of the users encounter numerous errors like H505, H202, Quickbooks 2017 Firewall Ports issue, etc. These issues can be repaired single-handedly by Firewall configuration.
Configuring the firewall in QuickBooks takes only a few steps only. It means performing the steps to prevent the Firewall from blocking internet access. 
Considering all these aspects, we have created this informative post to inform you about how to configure Quickbooks 2017 Firewall Ports. But before that, let's learn, what is the importance of the Firewall.
Importance of Firewall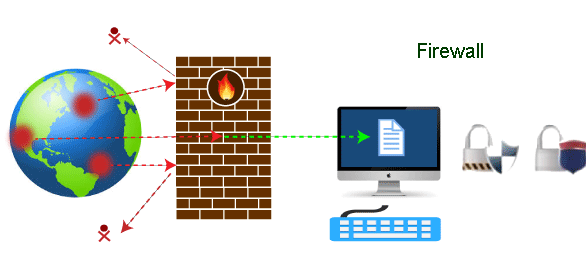 A firewall basically is a gatekeeper as it checks your operating system and prevents unnecessary traffic or threat sources. It acts as a wall between your system and the Internet, thus controlling traffic. Therefore, its importance can't be doubted.
A firewall protects your details as well as your network by handling your network traffic. It stops unwanted network traffic, and access networks for identifying any suspicious activity such as hacking and malware.
Your security software and operating system normally contain an inbuilt firewall. Above all, make sure to turn it on and configure your security settings to run automatically.
Steps To Configure Quickbooks Firewall Ports 2017
Some users think that configuring a firewall requires the supervision of IT professionals and is very tough. But, you can perform it both automatically and manually. 
Configuring QuickBooks Firewall Ports Automatically
You can do it without any human intervention. You just have to download and use QuickBooks file doctor. This powerful tool works as a defense against numerous Quickbooks errors. And let you access the firewall ports for configuration. Let's learn the working pattern of this tool.
Just visit Intuit's website and download the doctor tool from there. After that use it as per the instruction you see on your screen. This method is effective for checking Quickbooks pro-2017 Firewall Ports.
Manually Configuration of The Firewall Ports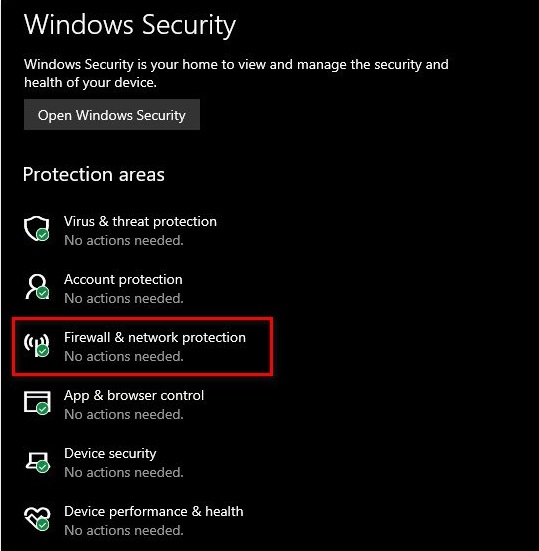 If you want to choose a manual process, then we have got you covered. 
First of all, tap on 'Start' and write 'Windows Firewall' in the vacant search space.

Further opening the 'Windows Firewall' you have to choose 'Advanced Settings.'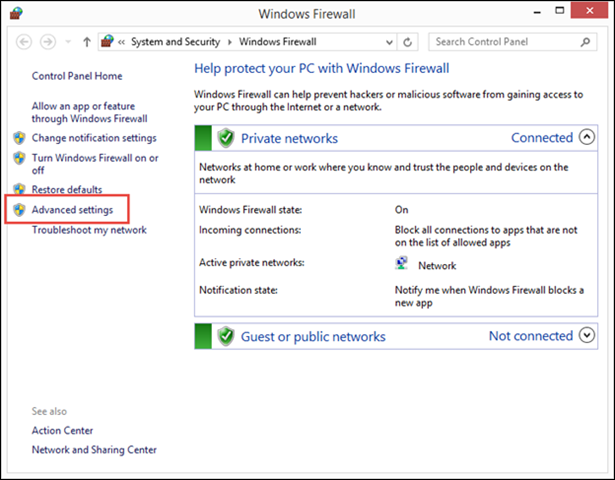 Next after that, right-tap on 'Inbound Rules', and choose 'New Rule.'

The following step is to tap on 'Port' and then on 'Next.'

Now confirm that TCP is already chosen.

Now, enter ports needed in the local ports area for the QBs year version:

QuickBooks 2020: 8019, XXXXX.

For QuickBooks 2018: 8019, 56728, 55378-55382.

QuickBooks 2019: 8019, XXXXX.

QuickBooks 2017: 55373-55377, 8019, 56727.

After entering the port number, hit next.

Tap on 'Allow the connection' then click on 'next' once again.

Followed by ensuring that all profiles are already ticked. If prompted, hit 'Next.'

After that, create a Rule. Now name it – "QBPorts(2017 or any year)".

At last, tap on 'Finish.'
Further, make the outbound rules by following the same steps mentioned above. Just choose outbound rules in place of Inbound rules.
Note: Remember that, QBs desktop 2019, 2020, and all more later versions that will be introduced utilize dynamic ports. 
Dynamic ports are firewall ports allocated during installation. Additionally, this helps in ensuring the software uses a specific port. For example – For QBs desktop 2019 and later versions, the format of port would be: 8019, XXXXX. Here, XXXXX refers to the dynamic port number.
To Get the Dynamic Port Number, Carry these Steps: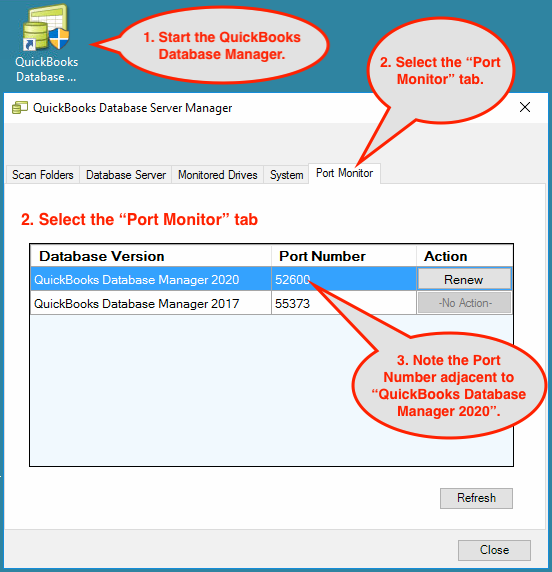 First of all, open 'Start.'

Secondly, write 'QuickBooks Database Server Manager' in the vacant box.

Now, open it.

After doing that, reach out to the 'Port Monitor.'

Now, find the QBs version.

At last, note the Port Number to be used for all exceptions of the firewall port.
After performing these steps accordingly, remember that the port number assigned can be changed when you choose the 'Renew' option.  Now, go to the 'Scan Folders' and choose 'Scan Now.' 
When you complete these actions, it will reset all firewall permissions. But, you will be able to renew Quickbooks 2017 Enterprise Firewall Ports, and later versions.
You Might Like, Simple Steps To Delete/remove Deposit in Quickbooks – Solved Guide
Creating Firewall Exceptions For All QBs Programs
Quickbooks use some executable files to function smoothly. First, find this list and after that, you need to navigate through the important selection mentioned below for performing firewall configuration. 
| | |
| --- | --- |
| Executable files | Location |
| AutoBackupExe.exe | C:\Program Files\Intuit\QUICKBOOKS YEAR |
| Dbmlsync.exe | C:\Program Files\Intuit\QUICKBOOKS YEAR |
| DBManagerExe.exe | C:\Program Files\Intuit\QUICKBOOKS YEAR |
| FileManagement.exe | C:\Program Files\Intuit\QUICKBOOKS YEAR |
| FileMovementExe.exe | C:\Program Files\Intuit\QUICKBOOKS YEAR |
| QuickBooksMessaging.exe | C:\Program Files\Intuit\QUICKBOOKS YEAR |
| QBW32.exe | C:\Program Files\Intuit\QUICKBOOKS YEAR |
| QBDBMgrN.exe | C:\Program Files\Intuit\QUICKBOOKS YEAR |
| QBGDSPlugin.exe | C:\Program Files\Intuit\QUICKBOOKS YEAR |
| QBServerUtilityMgr.exe | C:\Program Files\Common Files\Intuit\QuickBooks |
| QBCFMonitorService.exe | C:\Program Files\Common Files\Intuit\QuickBooks |
| QBLaunch.exe | C:\Program Files\Common Files\Intuit\QuickBooks |
| QBUpdate.exe | C:\Program Files\Common Files\Intuit\QuickBooks\QBUpdate |
| IntuitSyncManager.exe | C:\Program Files\Common Files\Intuit\Sync |
| OnlineBackup.exe | C:\Program Files\QuickBooks Online Backup |
If you find Program Files (x86), this implies that you are using a 64-b. You need to include port exceptions for each file mentioned above.
Reboot your Computer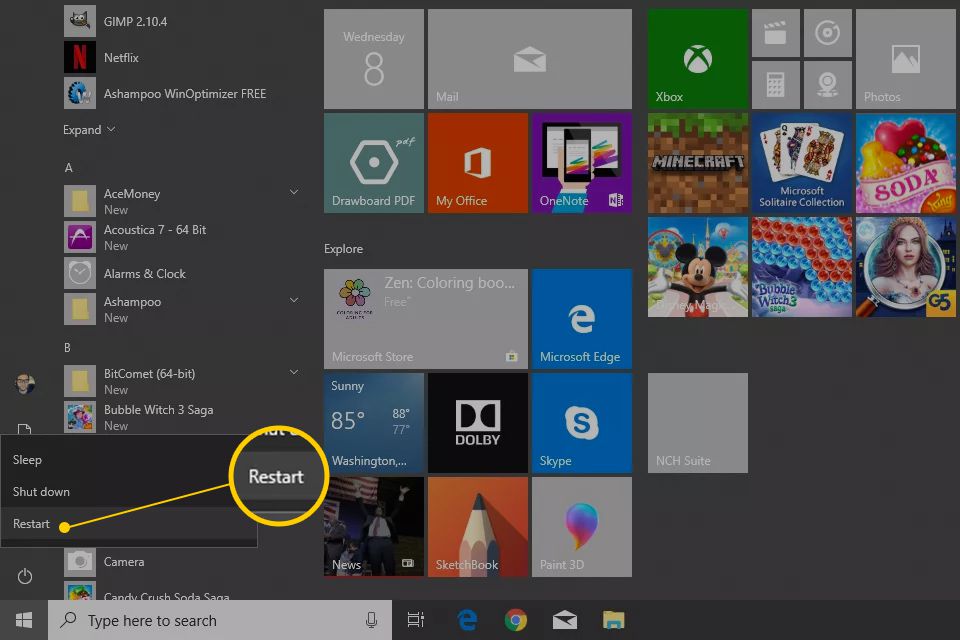 Sometimes, restarting your computer is recommended to save the latest modification you have made to finish the configuration of Quickbooks Enterprise 2017 Firewall Ports. So, always reboot/restart your PC once you change the settings of the Firewall. After that, you can open Quickbooks and resume your work.
You Might Also Like, How To Update Quickbooks? Get Latest Tools and Features
Getting Technical Help From Quickbooks Customer Support
If you feel the need for more guidance from the experts then it is best to get in touch with the support team of Quickbooks. Their number, as well as email id, are available online. Moreover, they can be contacted at any hour of the day. The experts listen to your queries and come up with the best advice. 
To Wrap Up
With this informative post, we have tried our best to give you a detailed guide about the configuration of your Quickbooks 2017 Firewall Ports. Moreover, make sure to carry all steps one by step to successfully complete the procedure. With this, we truly believe it's time to conclude this article here. But you can suggest more tips and write your valuable experience in the comments section below.