All companies require both liquid and current assets. After cash, a bank deposit is something that helps organizations to keep their money secure. QuickBooks is accounting software that has a feature that directly connects with bank transactions and deposits. This software is full of advanced features that only help small and medium-sized business owners to run their business efficiently but also achieve their financial goals. 
The Quickbooks software enables users to connect their financial accounts and do transactions. Whenever a transaction or deposit is performed, it gets automatically synced with QuickBooks. Users have to record all transactions in the deposit so that they could match exactly like bank records.
If the payments are recorded separately by the bank then users will have to add every payment one-by-one manually. Also, it is natural for users to make mistakes while making payments, sometimes you perform a wrong/unnecessary payment. In this case, you either could delete the incorrect deposit funds or undo them to balance the company's books. For this, you must know how to delete deposit in Quickbooks.
In this informative post, we will discuss how to delete a deposit in Quickbooks online to correct a customer's payment. But before that, it is important to learn different payment types in QuickBooks. The QBs payments are listed in two major categories;
Deposited payments

Undeposited payments
Method to Delete/Remove Payment From QBs Deposit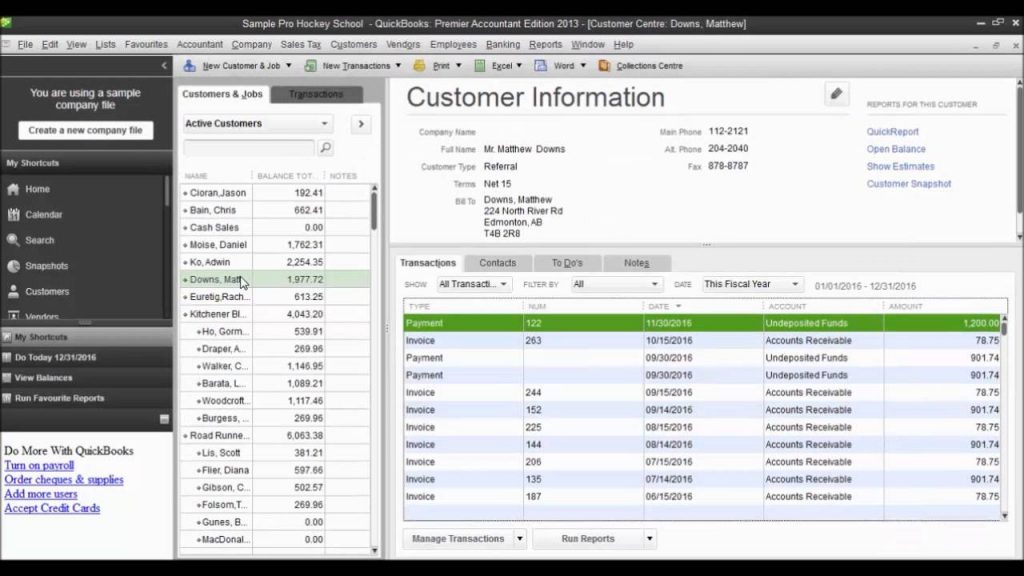 Sometimes you may find yourself asking how do I delete a deposit in Quickbooks, well the steps are: 
First of all, visit the QuickBooks homepage.

Tap on the "Record icon" to access the screen of "Make Deposit."

If your screen pops up the payment or deposit screen, then hit on "Cancel" and proceed.

Choose the "Previous" icon and find the deposit from where you need to delete the payment.

Now, pick the payment  and tap on "Edit."

After that, tap on the "Delete line" inside the "Edit" option to remove a payment.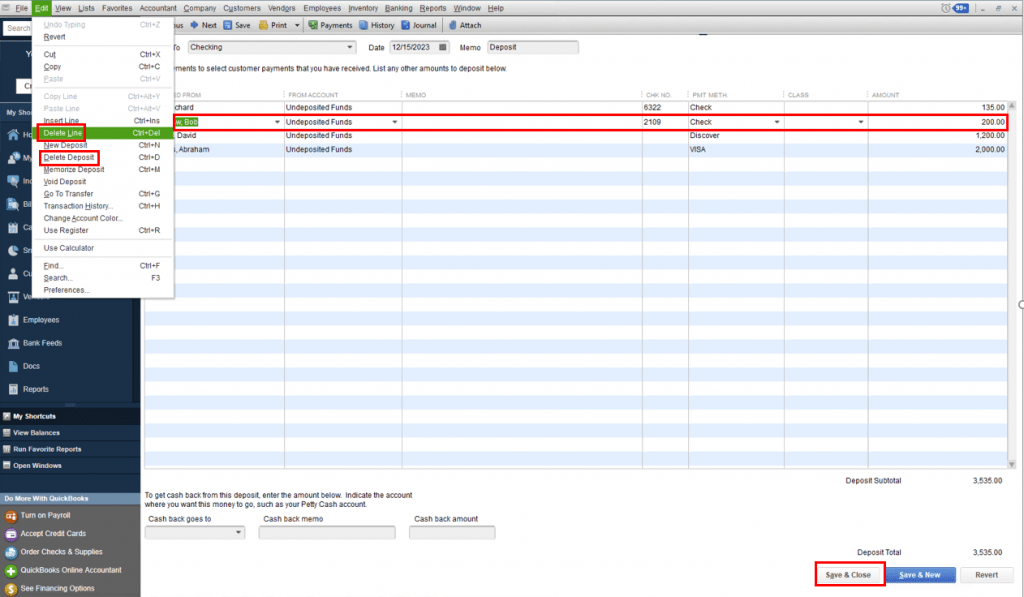 Then hit "OK" to approve the payment removal.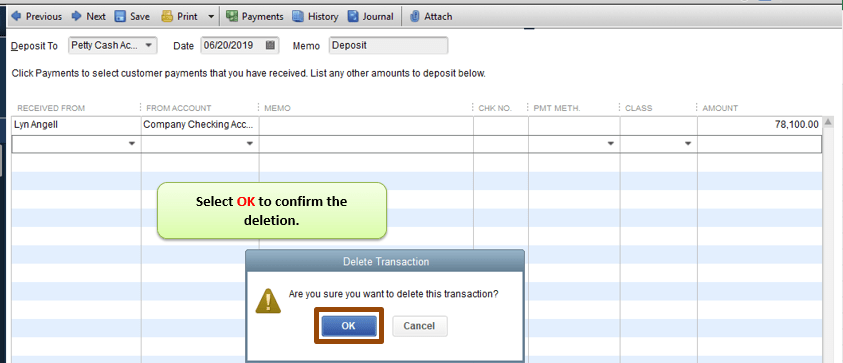 In the end, tap on "Save" and "Exit."
Removing a Duplicate Payment 
Duplicate payment means making the same payment twice accidentally. You can erase it with these easy steps:
Firstly, open QuickBooks and access your company file.

After that, tap on "Banking" and make a deposit.

Tap on "Choose the Line" that has the same payment and hit "Edit."

After clicking on "Edit," tap on "Delete Line."

Then tap on "Save."

Visit list "Menu then choose "Charts of Accounts" inside it.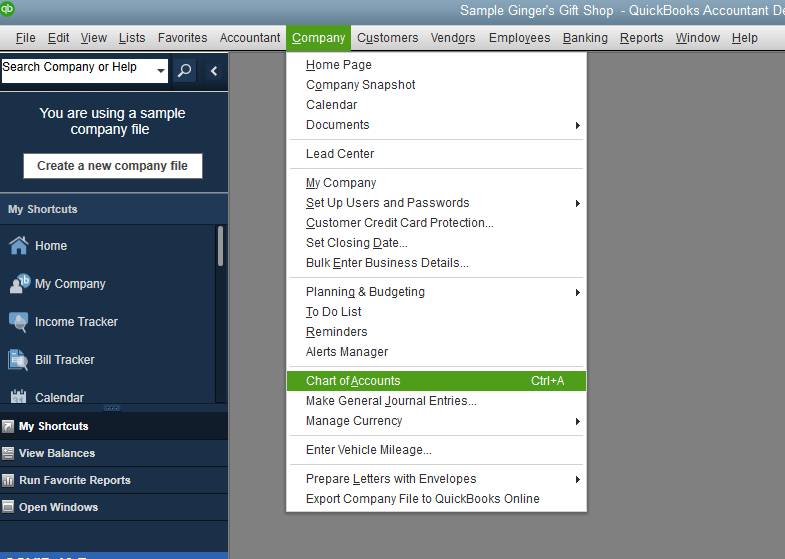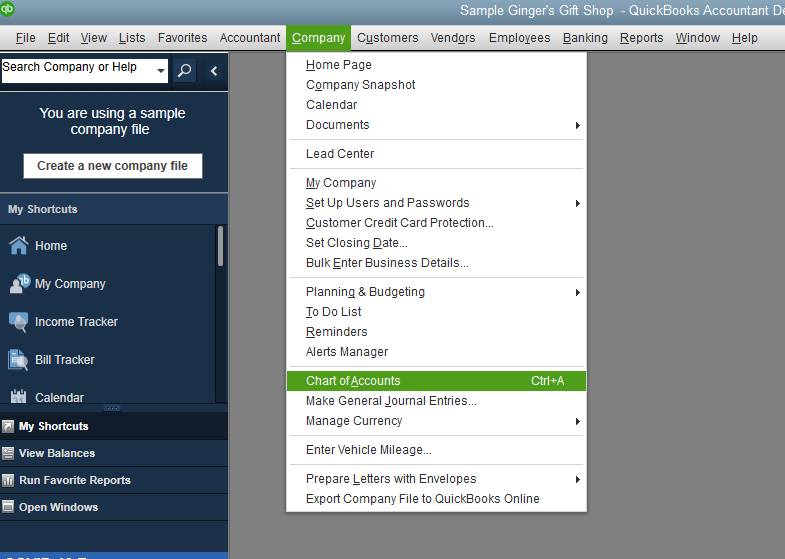 Tap twice on the "Undeposited funds" in order to access the bank account register. After that select duplicate payment to remove it.

In the end, press the tab on "Edit" and choose "Delete Payment."
Deleting Undeposited Payment in QuickBooks
Go to QuickBooks.

Choose "Lists."

Tap on "Chart of Accounts."

Pick "Undeposited Funds."

Right-tap on "Amount to be deleted" then hit on "Delete Deposit."

Hit OK to approve the action
Note: In case you are using an undeposited fund, deleting the payment will erase the payment. Then the original payment has to be recreated while depositing the funds.
Steps to Erase a Check from QuickBooks' Deposit
First of all, hit tab on "Create (+)."

Then select "Reports."

Look for "Deposit Detail Report."

Select a date range when the deposit was made

Then "Run the Report."

Tick the deposits you need to remove.

Tap on "Delete."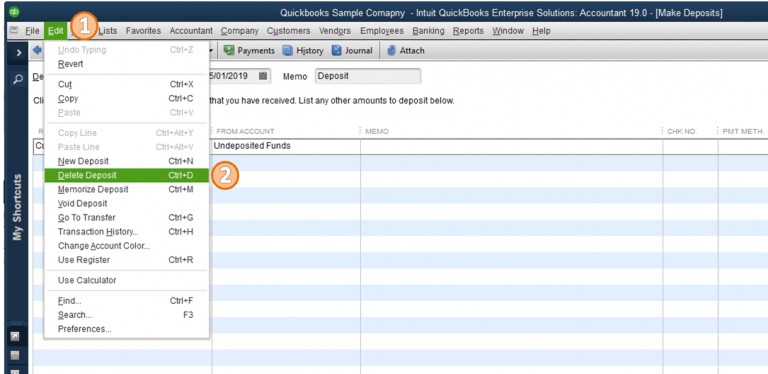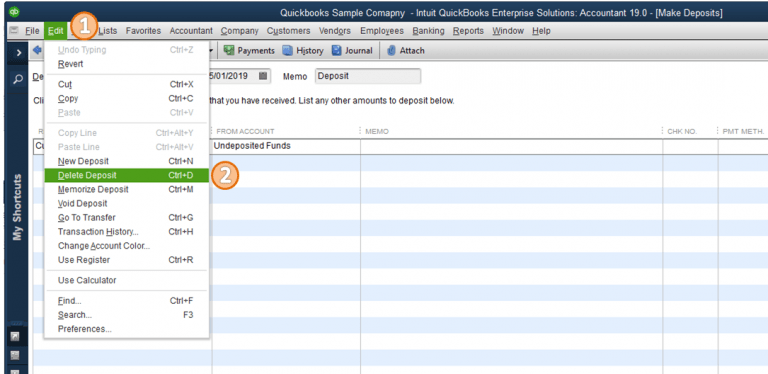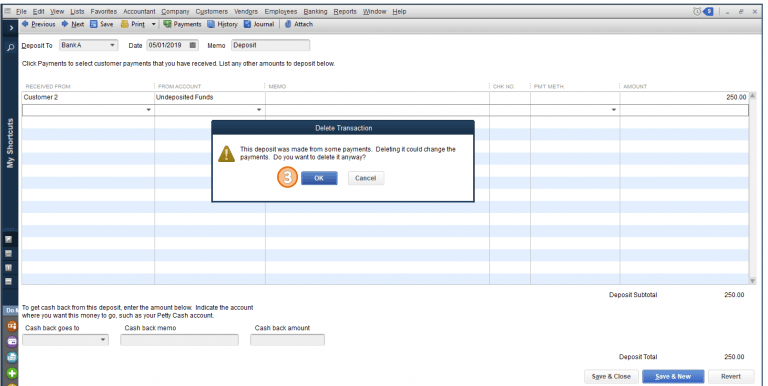 You can delete a check from Quickbooks deposits easily through this efficient way. 
Remember
When you delete a deposit, all the attached payments are also removed. To recreate the deposit after that, you need to match transactions/payments by downloading them by filling them in the account statement or directly from the bank.
For removing particular payment lines, just select the deposit. You can also select the entire payment lines if you wish to delete them all. By tapping on delete you will remove the payment from Quickbooks as well as from that particular deposit also.
You Might Also Like, An Uttermost Guide To Erase Error 15243 Quickbooks Update

How to Delete a Deposit in Quickbooks Online?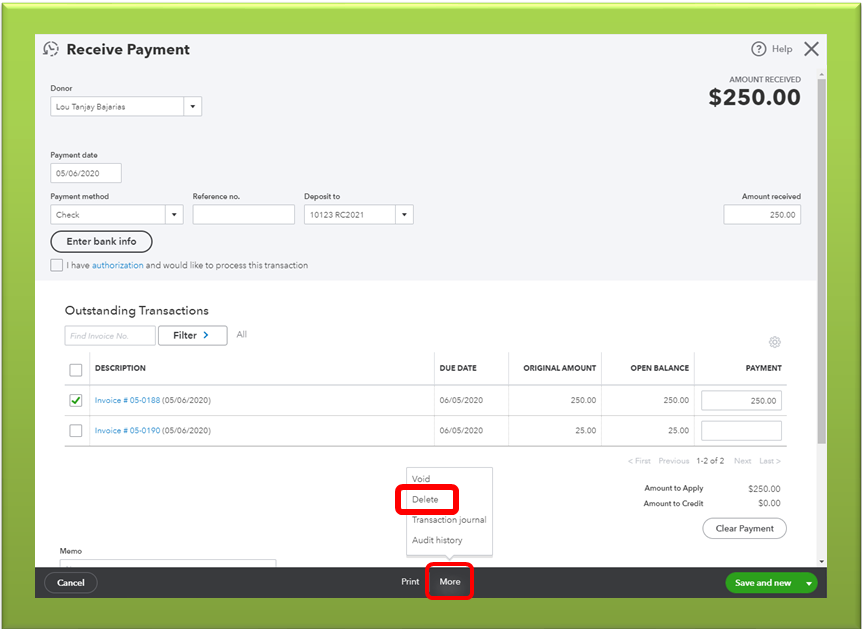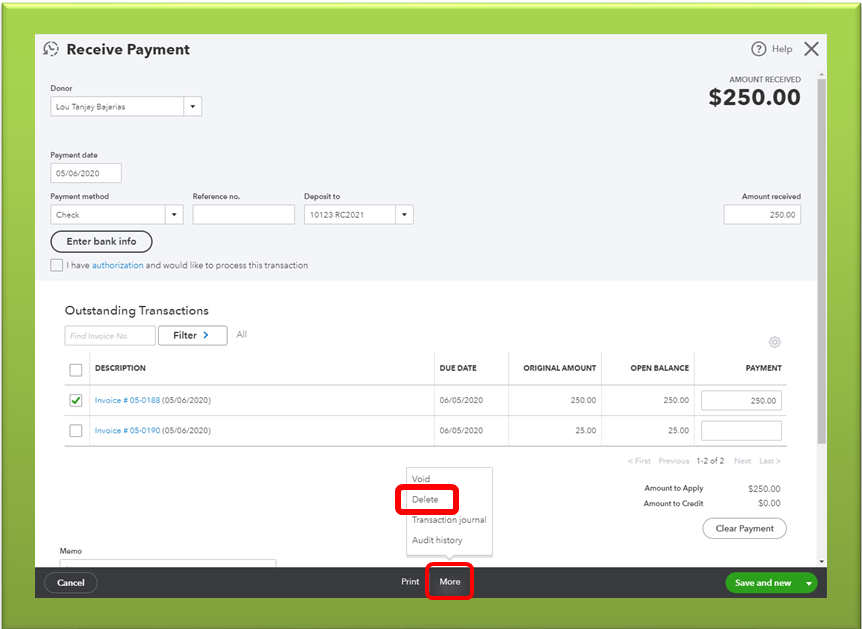 If you are a Quickbooks online user then follow these instructions to delete deposits.
Firstly, open QuickBooks Online.

Reach out to the "Customers" option and choose a "Particular Customer."

You will see the payments on your screen where you have to tap on the payment to delete.

In the end, hit on "More" > "Delete" on the window of payments.
Recovering Deposit That Was Mistakenly Removed in QuickBooks
Sometimes users delete deposit in Quickbooks accidentally. But don't worry, you can recover them by following the below steps:
Firstly, tap on "Create (+)" after opening QuickBooks.

Then, choose a bank deposit and  tap on "Select existing payments."

Go through the existing payment once and then remake the one you accidentally removed.
You Might Also Like, Methods To Troubleshoot Quickbooks Error 1935
Final Words
We truly hope that this informative post was sufficient enough to tell you all about how to delete deposits in Quickbooks. We assure you that, by using the above methods you will efficiently delete a deposit in QuickBooks. However, if you face any complexities while performing any method then the Quickbooks Customer Team is always there for you. You can obtain their number and email online and get in touch with them. The experts are 24×7 present to resolve all queries.
If you found this article useful then do write your experience and tips below in the comments section to help more readers.