Financial accounting is the most crucial part of any business. It involves balancing the sheets, checking the Profit and Loss accounts, cash-flow statements, and many more. While managing such tasks, it is obvious that one has to avoid any kind of mistake. This is where the role of  QuickBooks General Ledger comes into play.
So, when you make and receive a payment or do any transaction – it is important to create a journal entry. After that, all tasks will be added to the general ledger in QuickBooks. In this informative post, we will tell you all about General Ledger QuickBooks, and how to find and print it. 
What is a General Ledger in QuickBooks?
A general ledger report QuickBooks helps in showing the list of transactions from all accounts based on a certain date range. It includes full details about any transaction transactions from and to your accounts. We know that there is a debit and credit account for each transaction, so, the general ledger in QuickBooks lists them all. 
Also Read: Easy Steps To Delete Deposit in QuickBooks – Complete Guide
QuickBooks General Ledger: Important Terminologies 
Let's review some key terms before jumping into QuickBooks general ledger in more depth.
Accounts Receivable

: This section includes a record of the company's sales and receipts including the client invoices that have not been paid.

Accounts Payable

: It consists of the company's purchase record as well as those invoices that the organization has to pay.

Payroll

: It comprises the employee's remuneration record. Also, the checks to be paid to the employees and payroll taxes.
How Important is QuickBooks General Ledger?
QuickBooks general ledger is very important as you can keep track of your spending in your company. You can also check that the entries of transactions are related to the right account.
You can distinguish business expenses from personal expenses.

It helps in managing business expenses and you can pay them through personal funds.

You can track your company expenditures.

Maintains accurate records.
Steps to Find QuickBooks General Ledger 
Go through the steps to find the general ledger QuickBooks:
Firstly, sign in to QBs and select the Standard tab from the Report option.

Then go to the Accountant section and choose General Ledger.

After that, you need to choose a Date Range.

Lastly, tap on Customize and see the Preferences.
Way to create Journal Entries in General Ledger QuickBooks
Here is what you do to create entries in QuickBooks general ledger: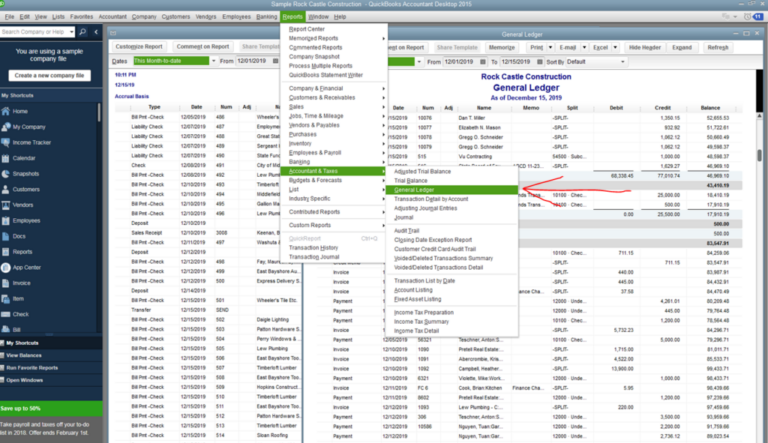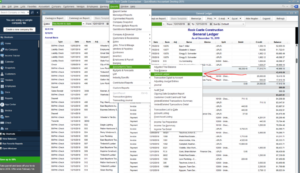 Firstly, visit the Company option and choose

Make General Journal Entries

.

Now, supply information in the fields and you should see that your debit matches your credits.

At last, click on Save and Close.
Here is How To Print General Ledger in QuickBooks
Now you know the process to find and create a general ledger report QuickBooks, it is now much more convenient for you to print: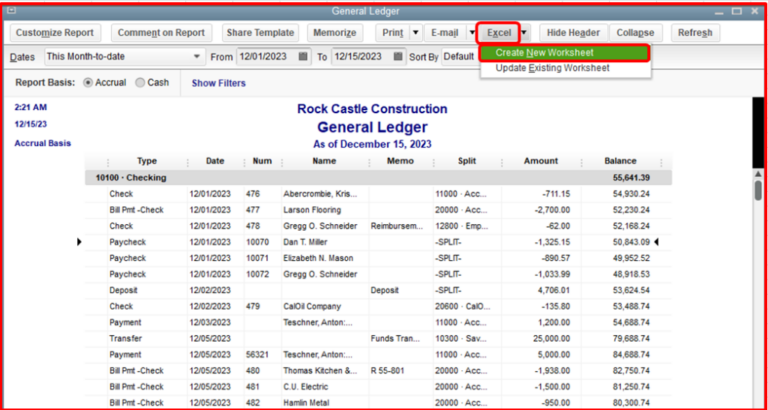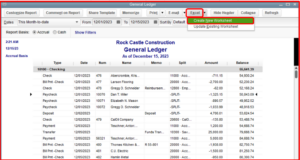 Once you logged in to your QBs account.

Tap on Print Reports then choose

Transaction reports

and then select General ledger.

Then write Month & Year and if you want to print the account range then

Enter the beginning and ending account number

Now, click on

Print

and press on

Start Printing

.
Also Read: How To Update QuickBooks (Get Latest Tools and Features)
Conclusion
Now, it's time to conclude this informative post on QuickBooks General Ledger. We hope that the information here is sufficient enough to serve you. If you have any queries then you can ping us anytime. We are always ready to help you.
Frequently Asked Questions (FAQs)
Q1. How to reconcile your accounts in QuickBooks Online?
Choose Settings and then select Reconcile.

Then click on Get started and tap on the Account that you want to reconcile.

Now, review your balance and see if it matches your statement.

Write the

Ending balance and Ending date and then click on Start reconciling.
Q2. What are the Benefits of General Ledger in QuickBooks?
Helps in identifying Unusual transactions.

Simple Inspection.

Evaluation of the Financial health of your company.

You can prepare a Tax summary.

Particular Accounts Final Position.
Q3. How do I keep track of cash in QuickBooks?
Tap on the + New and select Sales receipt.

Choose customer from the Customer option.

Write sales info and record line items for the products and services you sold.