You must agree with the fact that QuickBooks is fulfilling all your accounting needs. While using it for maintaining your finances, payroll, payments, and creating invoices. Keeping record of such big data is not easy as you need to keep it safe and secure. As everyone in your company has the login ID and password so there's a chance that you might lose some important information which can lead to problems.
So in this guide, we are going to tell you how you can reset your QuickBooks password so that you can secure your data. For that, you should know the reason, need, and techniques on how to do it. Stay along with us till the article ends. Let's begin.
How To Reset QuickBooks Password?
It is very necessary that you have the accessibility to password to login to the QuickBooks software being the admin. It is the admin's responsibility to keep the info of the users safe from any unfair means. What if you lost your password or you forgot your password to enter into the QuickBooks page, being a user or even an admin?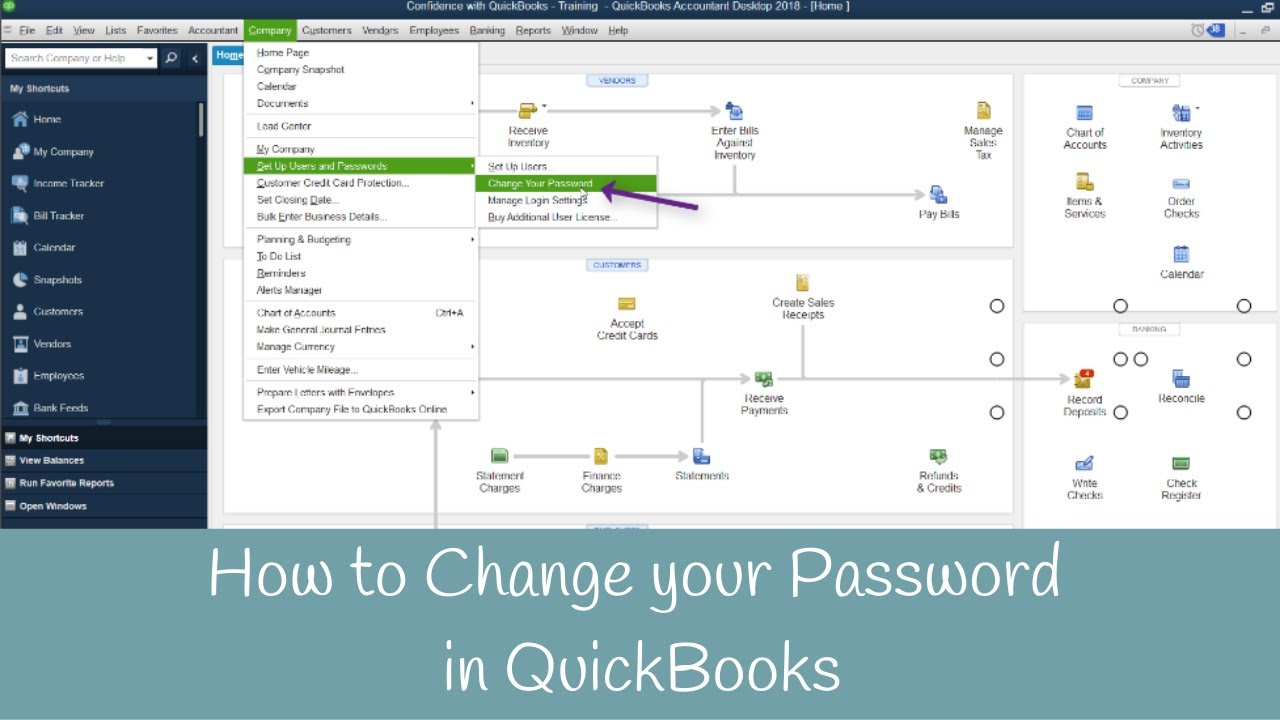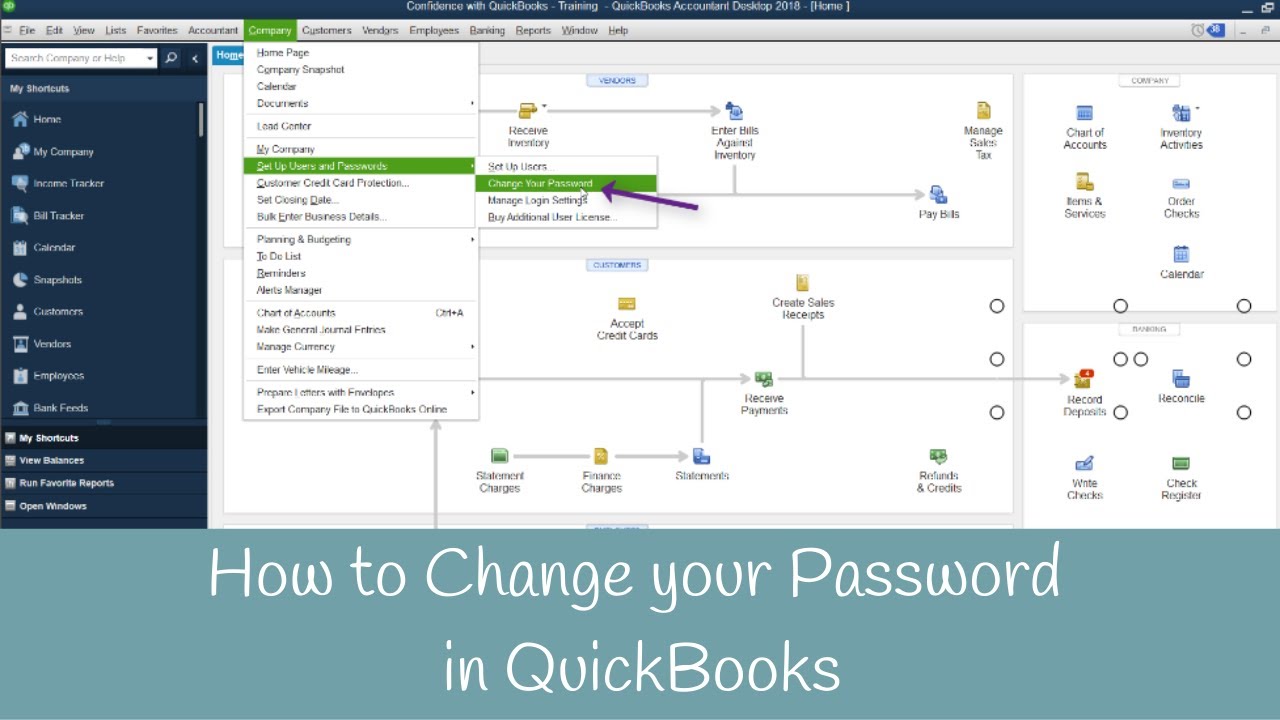 Here in this article, we present you with the solutions for resetting your QuickBooks password in different ways. The password can be reset manually or there is QuickBooks Password Reset Tool which can also be utilized to reset your credentials. 
Read- How to transfer Quickbooks to a new Computer ?
Things to Keep in Mind Before Reset Quickbooks Password 
These are some pointers that should be kept in your mind before you reset the password as an admin.
A complex password should be used including 7 characters(or letters, special characters, numbers), 1 Uppercase(minimum), and at least 1 number.

Avoid any space within the password.

Do check for Caps Lock and Num Lock before entering the password.

A 15-digit QuickBooks license number should be accessible.

Use your Login credentials to log in.
Different Techniques to Reset QuickBooks Password
The users can reset their password manually or by using QuickBooks Password Resetting Tool. Many times it gets difficult for the users to reset the password as they find the entire process tedious.
Techniques to Recover QuickBooks Admin Password Manually
These steps should be used only if earlier you used passwords to sign in or your user name was 'Admin'. Now, these steps can be followed to reset your password.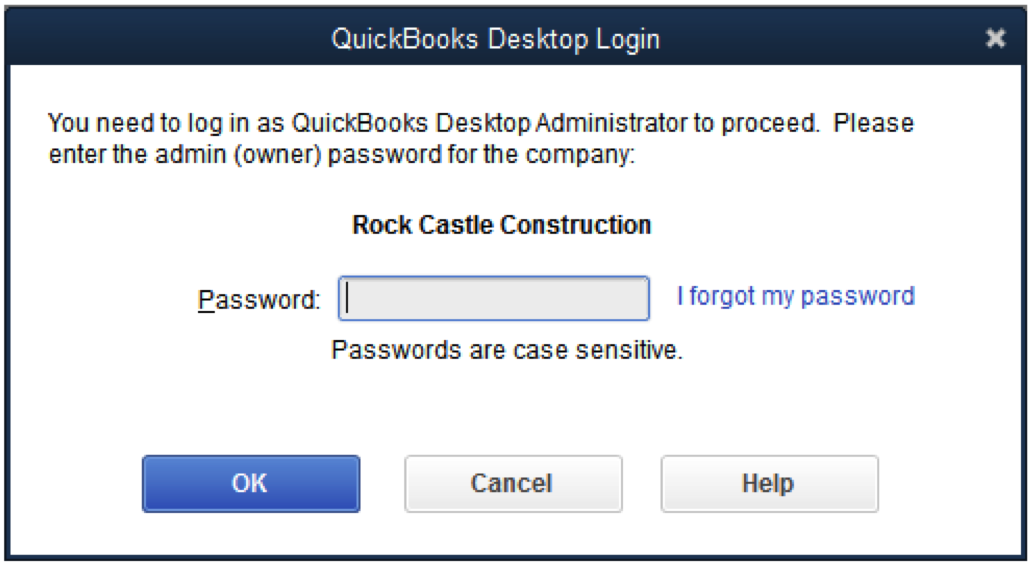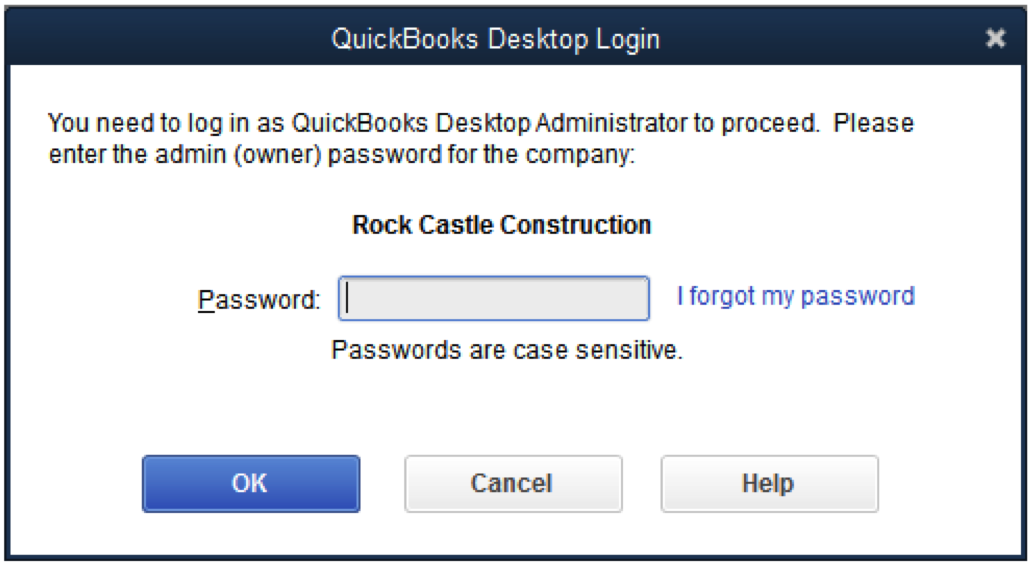 2020 and 2021 Version of QuickBooks
In QuickBooks Desktop 'Login Window'>' I forgot my password.

Select an Email Id from the mentioned list>' Next'.

You will receive an email to reset QuickBooks as an admin.

Now, enter the details you received for verification. (Do check the spam).
Read- How to delete a deposit in Quickbooks?
2019 and Older QuickBooks Version
Open QuickBooks Desktop Login Windows>' I forgot my password. 
You fill in all the details they have asked for i.e., your license number of QuickBooks, or either you can press F@ to automatically input the license number, name, phone number, email address, and zip code. (if by any means you don't remember all these details or want to recheck that can be done on CAMPS).

Hit 'Ok'>you receive an email> then you are guided by QuickBooks to create a new admin password.

After performing these steps you can finally reset your admin password to log in to QuickBooks.
Techniques to Reset QuickBooks Password Manually
These steps can be followed to reset the QuickBooks user password manually.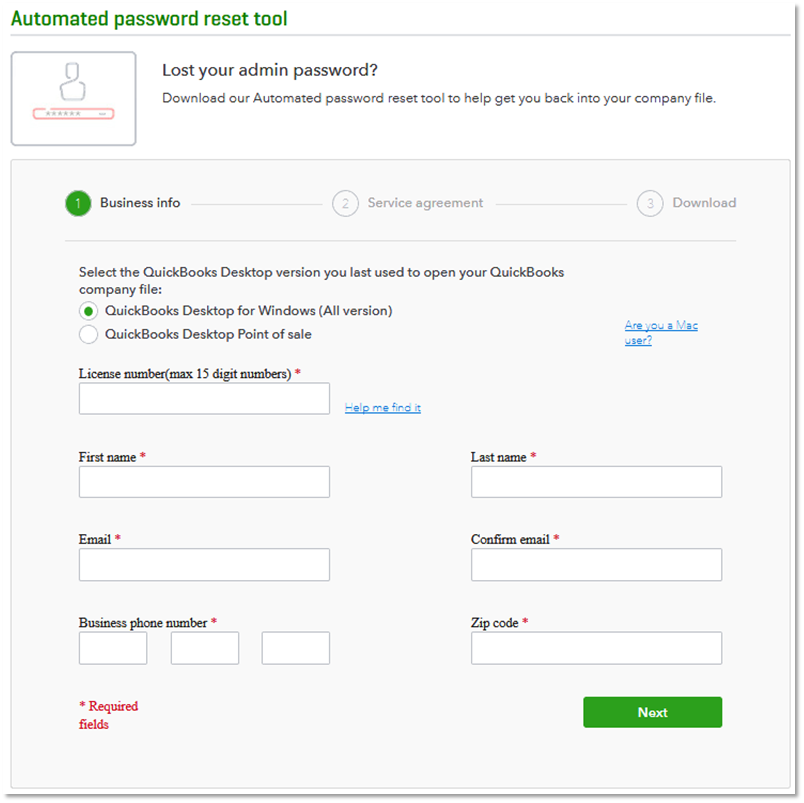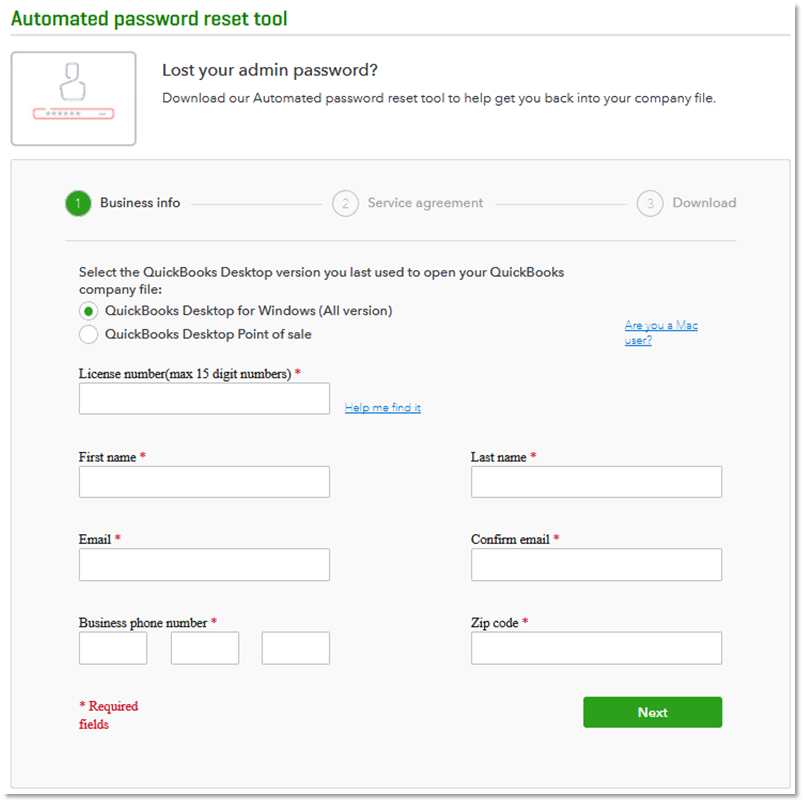 In QuickBooks sign in as the admin>' Company'>select 'Set up Users and Passwords.

'Set Up Users'>' Admin Password'(if asked).

'User List'>choose the user>' Edit User'.

'Next' press twice>' Finish' 
If by chance you are not able to set the password using this method then you can look forte the below steps:
You need to check all the details you have provided and re-check with CAMPS.

Use the Automated Password Reset Tool if you don't get results with manual methods.
 Automated Password Reset Tool for QuickBooks
These steps can be followed by an automated password reset tool for QuickBooks.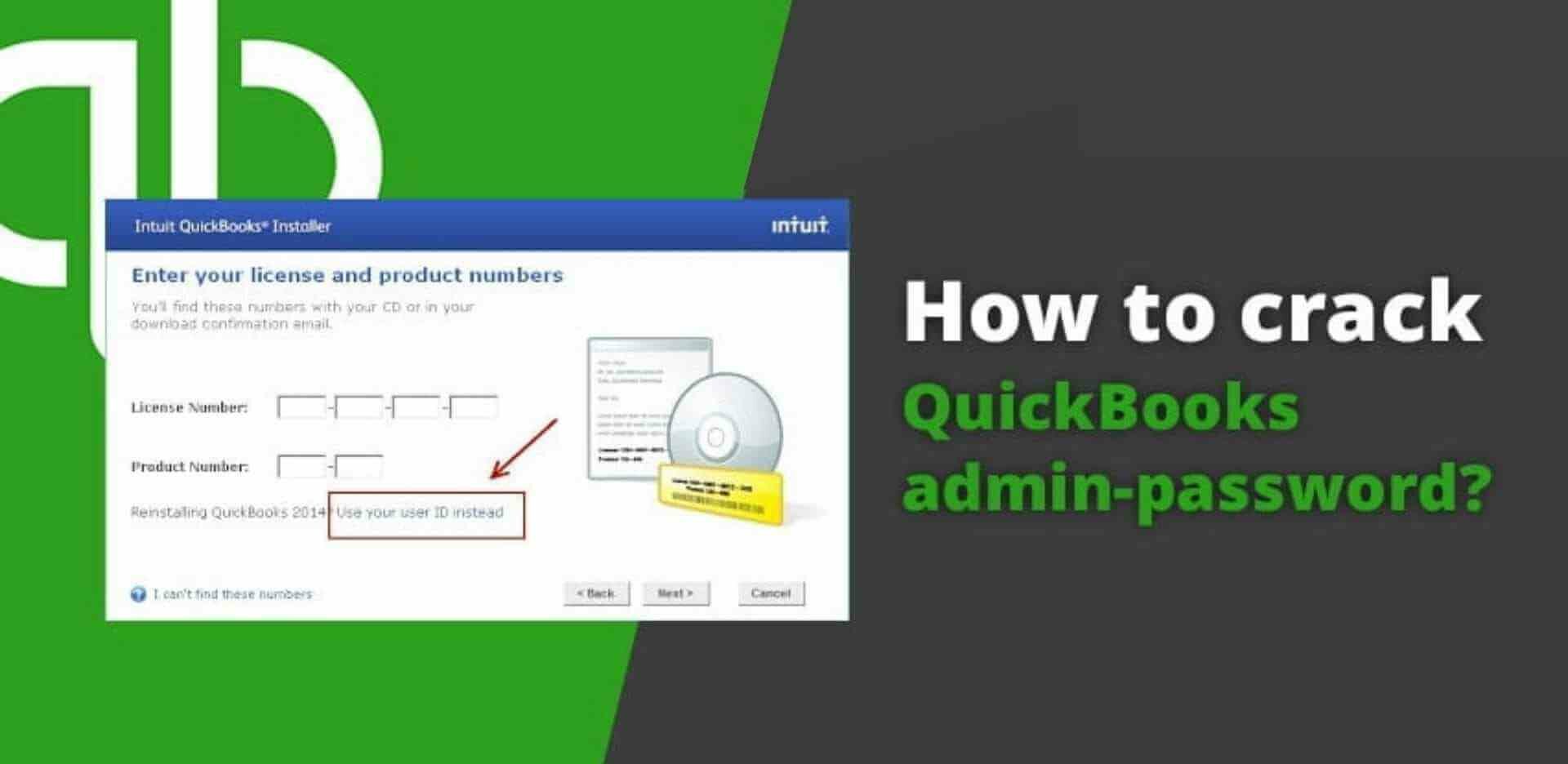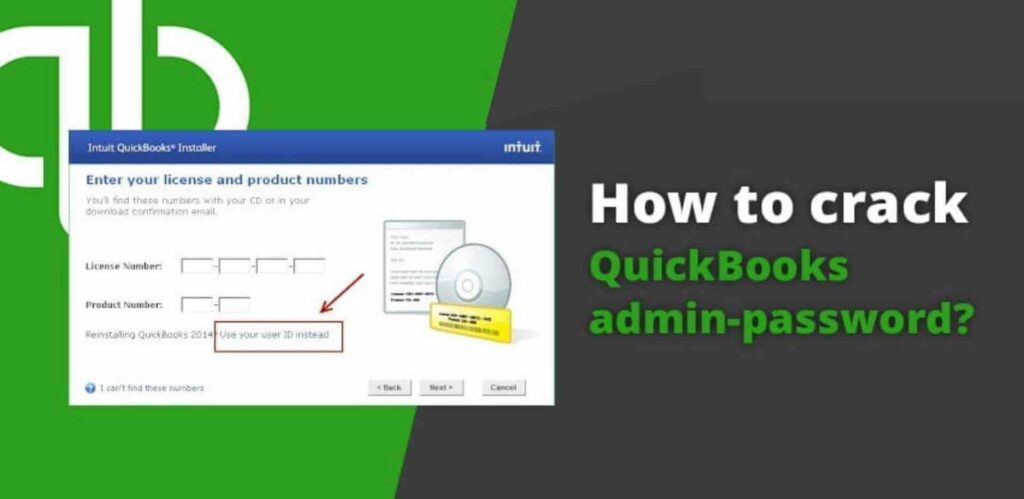 From the official website of QuickBooks download the QuickBooks Password Reset Tool. 

In the 'Downloads' in the system>' QuickBooks Auto Data Recovery Utility'>' Browse'>choose the company file(locked).

'Next'> 'Sign in' with the email with the QuickBooks>you'll get a security code.

Enter the security code on the QuickBooks window and reset your password on the company file>' Next'> wait.

Now login with the new password>' ok'.
QuickBooks Password Recovery Tool Usage 
If you want to know about QuickBooks Password Recovery Tool Usage, follow the steps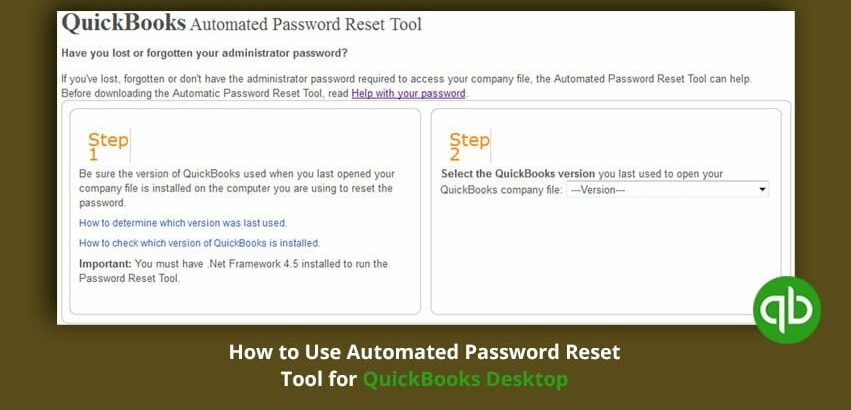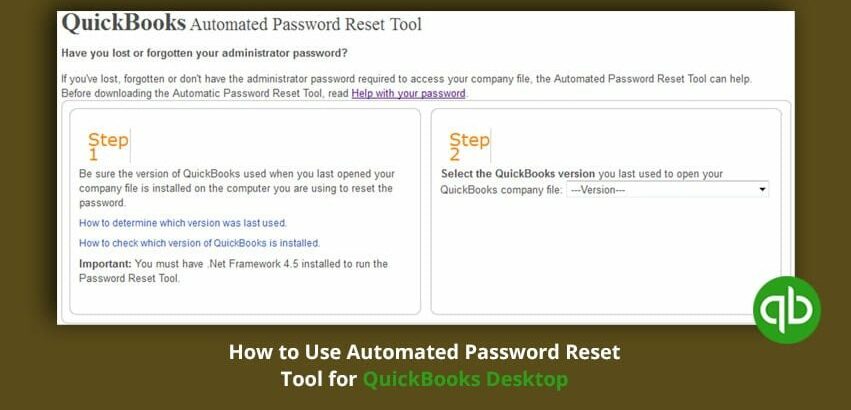 'Run' QuickBooks Desktop>open 'Company File'.

Enter password>' I forgot my password'>answer to the security question>' OK'.

Click 'close' on 'Password Removed Window'> create a new password here.

Fill in the details >' Next'> open the 'company file' with the new password.
The Final Say
After reading this entire article, we hope that we got your problem solved. This write-up is a convenient and hassle-free way to recover your lost or forgotten QuickBooks password. This article has all covered including the steps to be remembered before you change the password. Hopefully, the guidelines were simple and helpful. For any further queries consult us at any time.
Frequently Asked Questions (FAQs)
Q. How do I reset my QuickBooks employee password?
A. The answer to this question is very simple, by following the steps mentioned here you can easily reset your QuickBooks employee password.
(a). In QuickBooks click on 'forgot my ID and Password'>enter your mobile number, email ID, and login user name.
(b). After entering your details> you will receive a recovery code or mail.
( c). Here you can reset your new password.
Q. Why does QuickBooks keep asking me to change my password?
A. QuickBooks asks you to change your password on a regular basis for the security purpose of your account and data. If you keep your password unchanged for a long time then probably you are prone to cyber security issues.